Barlow Respiratory Hospital earns Service Excellence Award
Los Angeles, CA, February 2020 – Barlow Respiratory Hospital has been awarded the Spectrum Award for excellence in Customer Service for the 4th year in a row.


The Award is all-encompassing and unlike consumer reviews, this 5-star rating takes the entire customer service performance into account.

"Providing exceptional service consistently is no small task. We are pleased to present Barlow Respiratory Hospital with this recognition. Only a very select group of businesses earn our top ratings and the Spectrum Award. Even fewer are able to earn this recognition in consecutive years. Congratulations to you and your team for such an honorable achievement."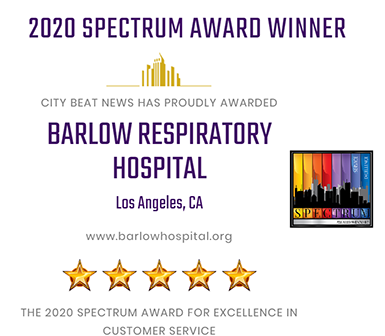 Click here to view 2021 Spectrum Award Winner
"Our team works together with one goal: to achieve best outcomes for our patients. This award validates the hard work of our entire Barlow Respiratory Hospital and is much appreciated" said Amit Mohan, Barlow Respiratory Hospital President and CEO.
Barlow Respiratory Hospital is the only not-for-profit long-term acute care hospital in California and the destination of choice for weaning patients from prolonged mechanical ventilation. Critically ill patients are referred to Barlow Respiratory Hospital from nearly 100 hospital intensive care units (ICUs) in the Los Angeles metropolitan area and Southern California. Barlow Respiratory Hospital has been awarded the Gold Seal of Approval® for Disease Specific Certification for Respiratory Failure, the only one on the West Coast and among a select few hospitals nationwide to attain this elite certification. Barlow also holds the designation as the only West Coast Passy-Muir Center of Excellence, recognized for treating patients with tracheostomies, on and off the ventilator. The hospital, on Stadium Way in Los Angeles, was founded in 1902 as a tuberculosis sanatorium.