Barlow Respiratory Hospital Awards 2019 Nursing Scholarship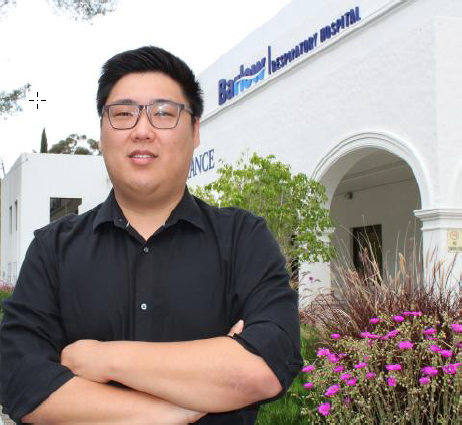 ​LOS ANGELES (June 4, 2019) – Barlow Respiratory Hospital announced the award of a 2019 Nursing Scholarship to a graduating nursing student at Glendale Community College. Jinsoo Kim was selected from several qualified candidates identified based on conscientiousness, hard work, and good standing in the program. He will receive the $5000 Barlow Respiratory Hospital Nursing Scholarship which will be presented at the Nursing Pinning Ceremony at Glendale College in June 2019.
"I decided to offer the Barlow scholarship to Jinsoo because of his commitment to the field and to the care of patients." Gladys D'Souza, Chief Nursing Officer Barlow Respiratory Hospital
"Jinsoo is a strong, hardworking student. Our faculty finds him exceptional!" Emelyn Judge, Associate Dean of Health Sciences Glendale Community College
Jinsoo's experience in nursing school was positive. "The clinical rotations and the preceptors really helped us make that first step. They trained us for the NCLEX (The National Council Licensure Examination - NCLEX-RN® exam) and prepared us for the real world as a nurse."
Jinsoo's journey to nursing began after a venture into the world of business. "I have Bachelor's Degree in Business Marketing from CSUN. After graduating, I got a job in the aerospace industry in procurement. It was a foot in the door but it felt I was not putting my degree or my education to use. As I was contemplating moving to another job, someone mentioned nursing as a field where you can actually put your education to work. And it is a field where there are expected to be many shortages."
According to the US Bureau of Labor Statistics, employment of registered nurses is projected to grow 15 percent from through 2026, much faster than the average for all occupations. Growth in the nursing field is related to increased demand for healthcare services for an aging population and care for patients with chronic conditions.
Jinsoo conducted research over the course of six months before making a decision. "I did my prerequisites and luckily I was accepted into Glendale Community College Nursing program." There, he discovered a passion for Critical Care Nursing. "Taking care of those patients really has value. That is the front line of medical care. It feels that I am being of good use."
Jinsoo is the first in his family to pursue a healthcare career. "It's been a struggle throughout nursing school but I try to count my blessings and thank God every day for opening a new chapter in my life. Our family originally is from South Korea and we don't have anyone in healthcare field. I am actually the first. When I first said I was going to go into nursing, they asked me 'are you sure?' In Korean culture transitioning at my age is considered a major change but my family has been very supportive. In Korea there are not many male nurses it is very rare, maybe one of ten. Here in our Glendale College graduating class, about half of the class is male. I'm glad to be a part of that. I believe that's a good change."
In addition to the scholarship award, Glendale Community College Nursing students are introduced to Barlow Respiratory Hospital through a Professional Nursing Student Education partnership that brings Associates' degree students to the campus for regular rotation coursework. Students who are subsequently hired by Barlow Respiratory Hospital enter an intensive 6-week Nursing Residency Program that provides them with the training and support they need to serve chronically critically ill patients with complex respiratory conditions at Barlow Respiratory Hospital and serves to deepen their level of expertise.
"Nursing is essential to the exceptional level of patient care that Barlow is known for." -- Gladys D'Souza, Chief Nursing Officer Barlow Respiratory Hospital
Barlow Respiratory Hospital is a national leader in weaning patients from mechanical ventilation and treating medically complex patients with respiratory illnesses. Barlow patients are typically the sickest of the sick, transferred from esteemed hospitals when all appears beyond hope. Barlow is known for a unique sense of family, a culture of teamwork, kindness and caring. Barlow is the only not-for-profit respiratory hospital in Los Angeles and is an affiliated teaching facility for USC's Keck School of Medicine. A long-term care hospital (LTCH), Barlow has been awarded the Gold Seal of Approval® for Respiratory Failure Certification by the Joint Commission and has earned Passy Muir designation as a Center of Excellence in the care for patients with tracheostomies. The hospital's professional interdisciplinary healthcare teams include Board-Certified Physicians, Registered Nurses and Licensed Respiratory, Physical, Occupational and Speech Therapists. The hospital's main campus is located at 2000 Stadium Way, Los Angeles, CA 90026 next to Dodger Stadium and operates two satellite facilities – in Van Nuys and in Whittier, California.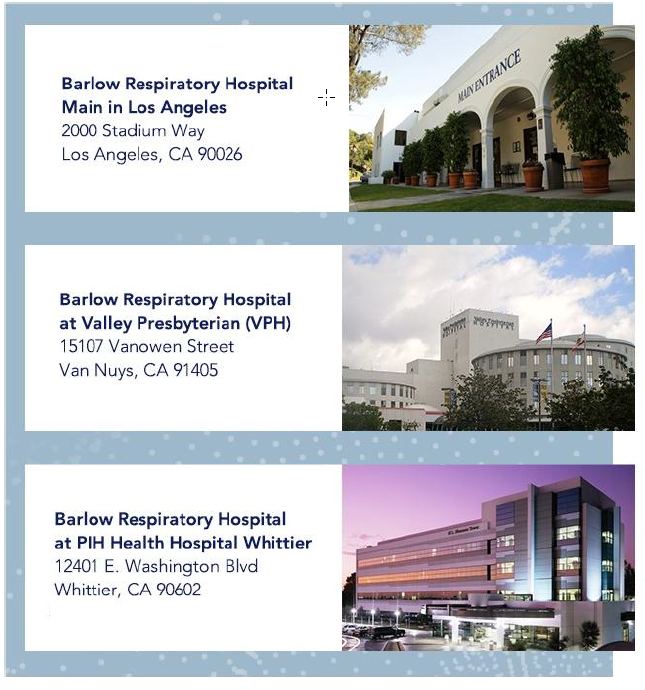 Click here to view Barlow Hospital Addresses
www.barlowhospital.org CONTACT: 213-202-6832 / jshimizu@barlowhospital.org
©2019 Barlow Respiratory Hospital