Barlow Respiratory Hospital on HASC Media Statement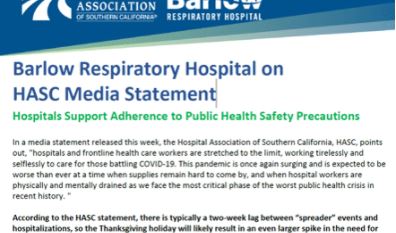 Click here to view Barlow Respiratory Hospital on HASC Media Statement
In a media statement released this week, the Hospital Association of Southern California, HASC, points out, "hospitals and frontline health care workers are stretched to the limit, working tirelessly and selflessly to care for those battling COVID-19. This pandemic is once again surging and is expected to be worse than ever at a time when supplies remain hard to come by, and when hospital workers are physically and mentally drained as we face the most critical phase of the worst public health crisis in recent history. "
According to the HASC statement, there is typically a two-week lag between "spreader" events and hospitalizations, so the Thanksgiving holiday will likely result in an even larger spike in the need for hospital care over the next month. The Christmas, Hanukkah, Kwanzaa and New Year's holidays that follow will mean little respite for weary health care workers and all other hospital staff. At Barlow Respiratory Hospital, because we are an LTCH, Long Term Acute Care hospital, we care for patients who have been hospitalized in an ICU for a prolonged period of time. That means there is an additional lag before admissions to our hospital for specialized post-ICU care. At Barlow Respiratory Hospital, medically complex patients are admitted for weaning from prolonged mechanical ventilation as the next step in the care and recovery journey.
"As we approach the point when a vaccine will be available and can begin turning the page on this virus, it's critical that all Southern California residents follow the science-based safety guidelines of our public health officials. We know this is hard for everyone: it's hard for businesses; it's hard for employees; it's hard for nurses and doctors and hospital support staff. However, it's absolutely hardest on the families who face an empty chair at the dinner table this holiday season."
At Barlow Respiratory Hospital, we have been cheered to see patients recover from COVID-19 and return home to the families and the lives they love. But it remains a long road to full recovery and we would not wish this illness on anyone. Barlow Respiratory Hospital joins Southern California Hospital Association to implore all of us to do our part: to practice social distancing, limit gatherings, wear masks, and respect the guidance of public health leaders ..."to save lives and to help our teams be there for their families at this special time of year – and into the new year as well. "
CONTACT:
Adam Blackstone
Hospital Association of Southern California
323-447-0864 – Cell
Julia Robinson Shimizu
Barlow Respiratory Hospital
213-202-6832 direct / 818-489-8790 - cell