Barlow Respiratory Hospital Moves Forward : Renovation Begins as Retrofit Concludes
LOS ANGELES (May 26, 2020) – Barlow Respiratory Hospital has announced an update to plans for the future. The hospital, founded in 1902 as a Tuberculosis Sanatorium, is a historical cultural site including buildings dating from the early twentieth century. Amit Mohan, PhD, President and Chief Executive Officer of Barlow Respiratory Hospital announced that a structural retrofit required by California's Office of Statewide Health Planning and Development, (OSHPD) has been completed and renovations have begun for a new building for patient care. The mandated retrofit of the hospital's historic structure near downtown Los Angeles, began in October 2018 to meet seismic structural standards. The hospital has operated throughout the entire process without interruption of patient services.
"We are pleased that Barlow Respiratory Hospital can extend the structural life and effectiveness of all of our hospital buildings. Now that we have completed our seismic retrofit, we look to the future as we begin construction of a new state-of-the-art hospital building on our Los Angeles campus."
Amit Mohan, CEO
Three R's: Rehab, Rebuild and Repurpose
Construction has begun on the hospital's plan to rebuild an adjacent, under-utilized structure. A gut-rehab will transform the building from the inside out. This will be achieved without changing the hospital's external footprint and without the disruption of breaking ground for new construction and all at a much lower cost. The plan hinges on three R's: rehab, rebuild and repurpose. The new hospital will be constructed within the walls of an existing structure on the hospital's historic Los Angeles campus. It will result in a dramatic re-imagining of the entire hospital interior layout to create larger rooms and more beds with ample space for state-of-the-art medical equipment. Because a majority of the work on the project will occur within the confines of existing space, the impact on patients and families, as well as the surrounding community, will be minimal.

Completion is expected in late 2022. The current hospital facility will then be repurposed for use as administrative offices. The hospital remains open throughout the process as it has throughout the recently completed seismic retrofit.
"Our main hospital facility was built in 1927 and is too cramped to comfortably accommodate modern medical equipment or family visits. Our patients need and deserve a facility that reflects the expert care they receive at Barlow and for which we are known. We have a long history in Los Angeles. We plan to continue our legacy of service."
Amit Mohan, CEO
Barlow Respiratory Hospital is a small, stand-alone, specialty hospital, the only not-for-profit respiratory hospital in California. The main hospital building was constructed in 1927, long before current health facility building codes were written. In recent years, several hospitals in California have been forced to close due to seismic safety issues and most cited costs related to seismic upgrades among reasons for closing.
"At one time, we believed we had no choice but to abandon our historic hospital building. We faced a looming deadline and concerns about how to fund new construction. After extensive study, we determined a new way to approach the challenge and developed an innovative and cost-saving approach to Rebuild Barlow."
Barlow Respiratory Hospital is a national leader in weaning patients from mechanical ventilation. Patients are typically transferred from Intensive Care Units after a prolonged stay. The hospital is known for a unique sense of family, a culture of teamwork, kindness and caring. Like patients who survive to return to the homes and the families they love, Barlow survives to serve the community against all odds.
Small Can Be Mighty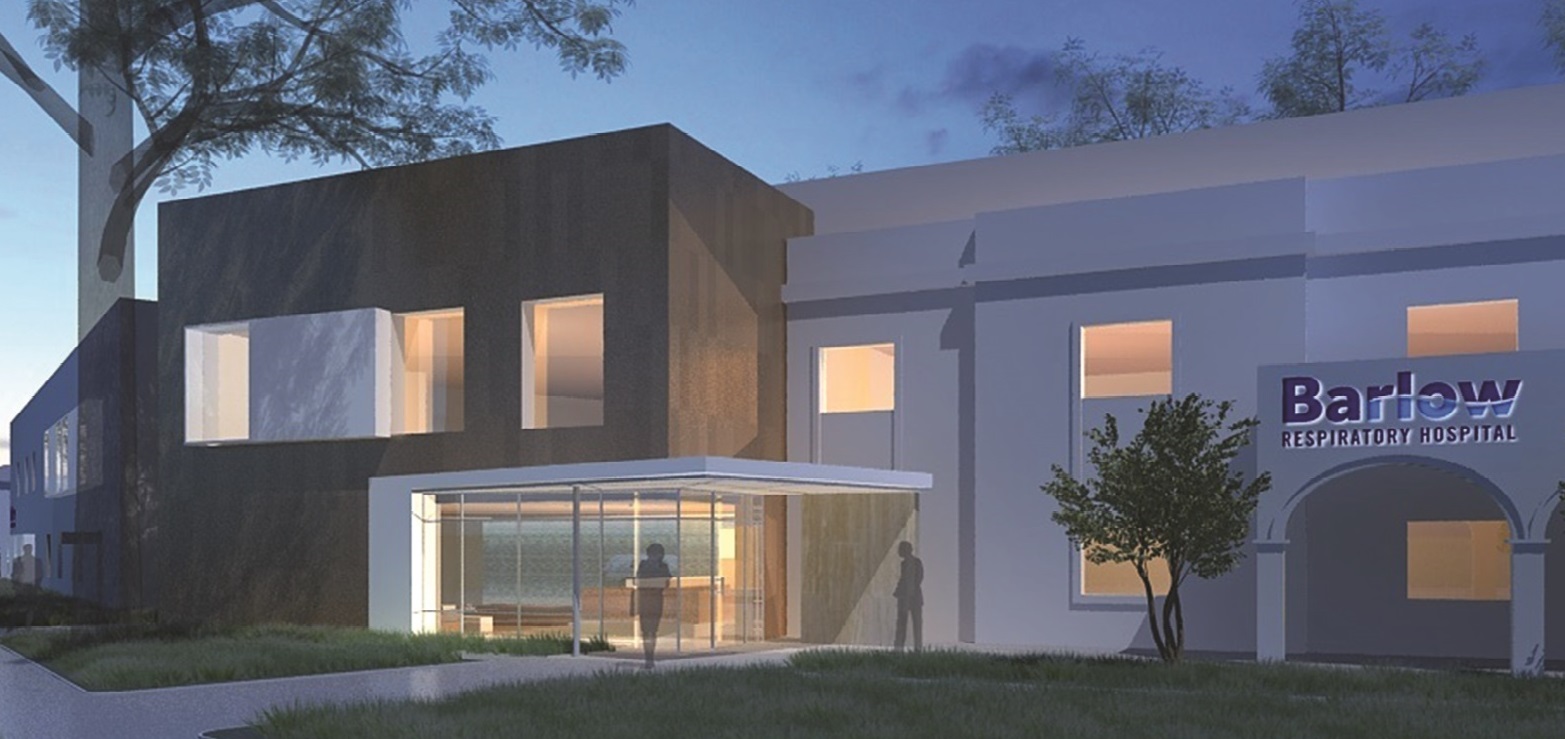 ​For over one hundred years, Barlow Respiratory Hospital has quietly gone about the business of making very sick patients well again. The hospital has survived seismic shifts in the landscape of healthcare delivery and serves as a reminder that small can be mighty, particularly in the local Los Angeles healthcare continuum. The hospital is considered one of the nation's leading Long Term Acute Care Hospitals (LTCH) for post-ICU care of critically ill patients.

Barlow Respiratory Hospital Los Angeles campus consists of six interconnected buildings including the kitchen/cafeteria constructed in 1902, the oldest OSHPD approved SPC-2 building in California. ( more…)
OSHPD is the agency responsible for monitoring the construction, renovation, and seismic safety of hospitals and skilled nursing facilities throughout California. All Barlow Respiratory Hospital buildings now meet the Structural Performance Category (SPC) – 2 rating to remain operational.